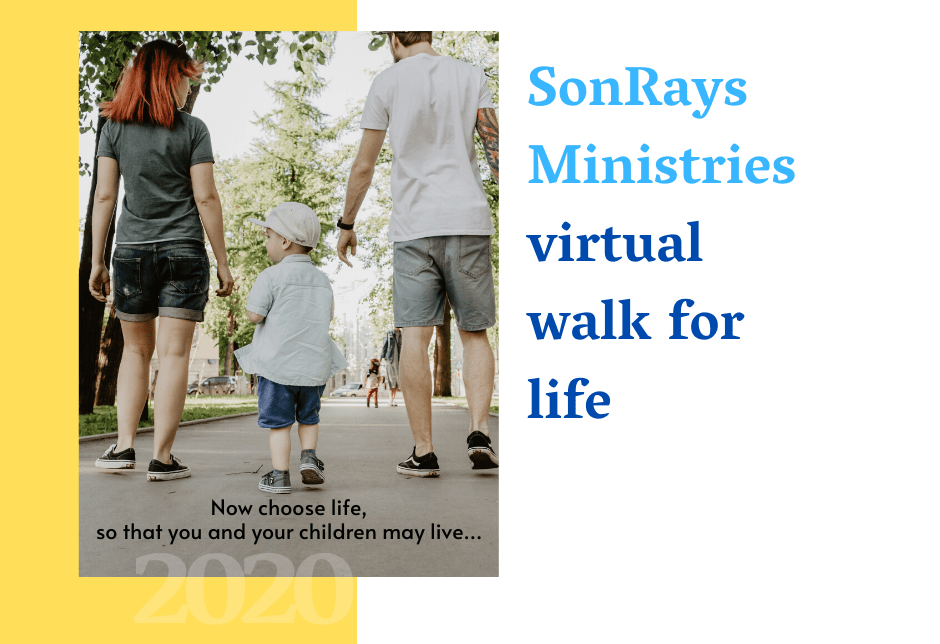 We invite you to run, walk, bike or stroll in such a way as to win the prize!
June 1-30, 2021 SonRays Ministries is virtually gathering people to raise money for life.
We are celebrating Mother's Day and Father's Day, and the weeks surrounding them, with a focus on the Heavenly Father's love for family. Won't you join us to help vulnerable women and families in Western New York? All you need to do is register and share with everyone you know.  Then go take a walk for life.
We've prayed over a goal of $50,000 and can only do this if we pray BIG and share BIG. We can do this together in Christ.
All participants $25 donation
You are encouraged to give additionally toward tangible ministry items

Hospital Baskets for New Moms
Crisis Care Response
Infant Car Seats
Family Resources

All donations are tax deductible
You can walk, run, bike or stroll virtually or physically wherever it is safe and legal to do so
Virtual walk ends June 30th to count toward prizes
Easy as 1-2-3!
Just register & pay your donation fee
SHARE this event with everyone you know on Facebook, email and in your church and family groups
Walk virtually or physically wherever and whenever before June 30, 2021
Make sure "your people" mention your name, as we have great prizes.  In fact, why not go tell 50 people and have them mention you? They need to include your name in the Sponsor/Group Leader space on the registration/donor form. The cut off is midnight June 30, 2021…what are you waiting for?
We are giving prizes to the "Walkers" with the top three highest donations raised.
Top Prize: TBD
2nd Prize: TBD
3rd Prize: TBD
HOW TO REGISTER
If you plan to register/pay by credit card:  use the big REGISTER NOW button below
If you plan to pay by check: Please call the office at (716) 695-9494 to register and then mail payment to PO Box 673, Tonawanda, NY 14150. It must be postmarked by June 30, 2021.
Don't want to register but want to make a tax-deductible donation to the event? Donate Here 
(Be sure to include the name of anyone who should get Sponsor credit.)